For the past two weeks, I spent time on a Holy Land Pilgrimage in Israel with Ecclesia Houston and my Pastor, Chris Seay. I posted daily updates at the end of every day documenting moments through photo and video. I recommend following our fellow friend + genius photographer, Kirby Trapolino, at KirbyTrapolino.com
Click on the smaller images to enlarge.
O, That Rugged Cross. Hallelujah!
Day 7 of our Holy Land Pilgrimage was one of my favorite days. I had the privilege of visiting the Garden Tomb in my first week and you can read about it by clicking here.
One of the biggest things I have ever been told was this:
I remember telling my mother the next day this moment and when I tried to repeat what Steve had told me, I felt a knot in my throat and tears flowing down my face. Looking back now, it wasn't just the impact of Steve's quote to me, but rather when I tried to say the same words, something in my soul overflowed with emotion. I can only imagine the same emotion x 2039847 from Peter in Luke 24 when He saw the empty tomb:
Coming back home to Houston, Texas, I do not want to lose my soul's emotion for the resurrection. To live a life with celebration of the resurrection everyday and not just Easter weekend. A celebration in my soul because that resurrected King has given us life, given us freedom, given us love and given us grace.
At the death of Jesus, the Romans thought they had silenced a rebel, the Jewish thought they had stopped a heretic, the believers thought they had lost their Messiah, His Disciples + family thought they had lost their friend and Savior. If they only knew in the moment. This is a symbolism shown in Golgotha, a close distance to the Garden Tomb. Above it, you have a Muslim cemetery and below you have a busy bus station. Again, I thought, if they only knew right near to them was the site where the Son of God defeated death for our freedom. Yet both of these perspectives are less about them + more about myself.
How many times throughout my life, year, month, day do I live a life desperate in an upside down world where if I only knew + remembered that God didn't merely send His one and only Son to point a finger at what was wrong in the world, but to make things right. In HIS death, my hope is found. That cross represents our Savior in Jesus Christ; that empty tomb represents our freedom in Jesus Christ.
This is not a historic message, it's a current message. A message of a Christ that can bring life to your grief, life to your family, life to your dreams, life to your marriage.
If Only I Knew
Jesus died for our pain, for our peace, for our suffering. It is more than religion. It is life through Jesus Christ. Where there is life, there is hope. A new beginning.
No end is final. No failure is fatal. No one is unreachable. No mistake is unredeemable. Jesus is alive!
The Commission
His resurrection was just the beginning of our mission: the church. Being part of the church doesn't mean being part of a sepulchre, monastery, or building. We are the hands and feet of Jesus. We need to be the church. We need to be the church to reach the unreached. We need to be the church to the lost. We need to be the church the poor. We need to be the church to the lonely. We need to be the church to the grieving. We need to be the church to the each other.
Prayer
My prayer is that I may shift my days from "if I only knew" to knowing that no matter the pain, grief, suffering, confusion, doubt, loneliness, brokenness, anger, my Savior came, conquered death will return. In this is my hope. Hope that my sorrows + laments will soon become praises. That I may make the daily decision to be the church to my family, neighbors, + friends.
Darkness will not overcome the light. Jesus is our freedom from our past and pain. Jesus is the hope that will overwhelm our lives. That is the power and beautiful name of Jesus.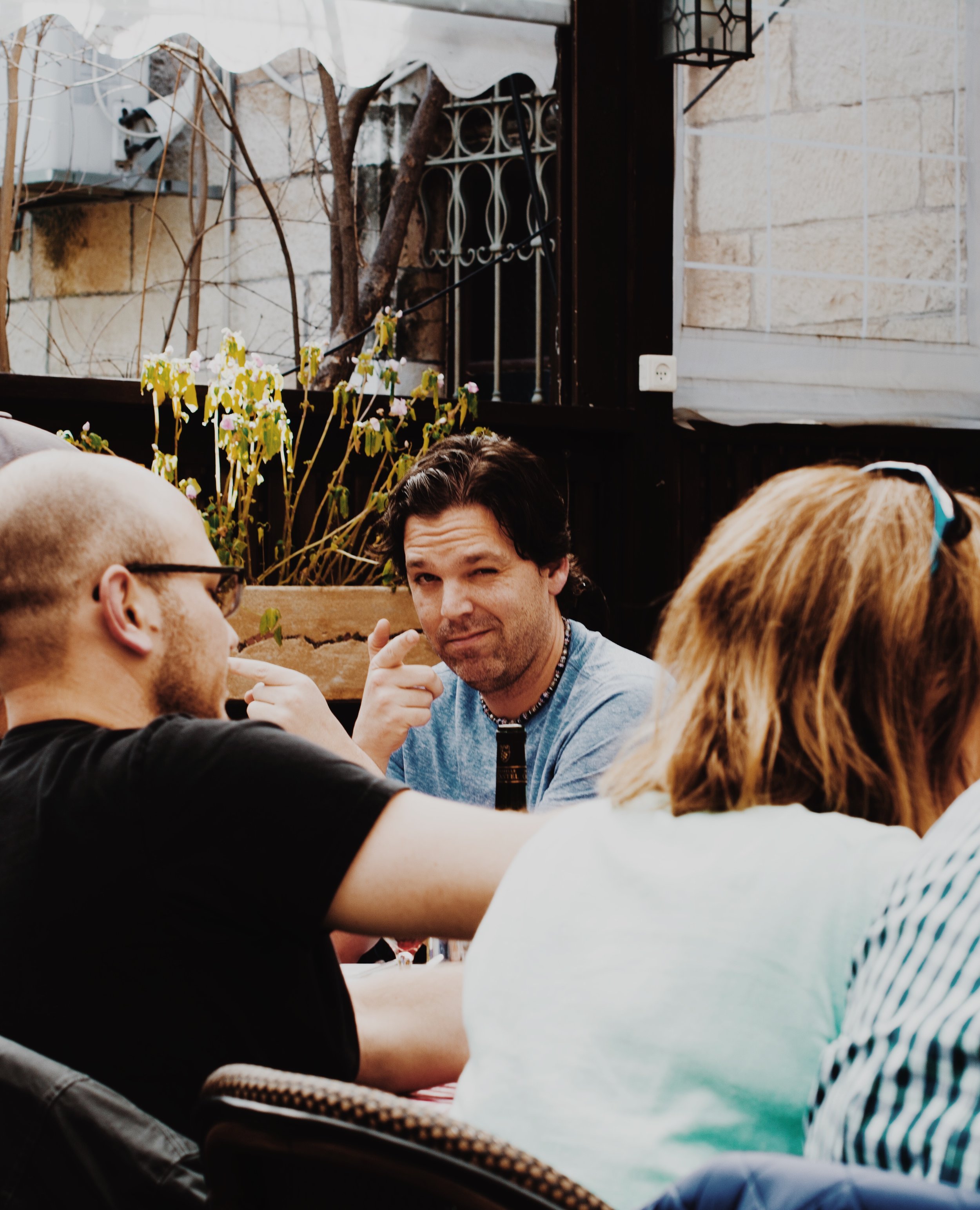 Human Doing. Human Being.
We ended the evening sharing Shabbat dinners with local Jewish families of Jerusalem. As part of their practice to not use or touch electronics, we did not use our cell phones or take photos. The visual person in me wishes I could at least had one photo to reflect on, yet the beauty of these dinners was ability of being.
I end this long blog with a thought that means so much to me after experiencing a few hours of being. No distractions or agendas. Just a few people from different parts of life, sitting across the table, breaking bread and doing life together through authenticity + grace. That is one of the few moments I have ever felt so alive as a human being. As my host said perfectly (+ I hope I never forget in the States):